"Wallaroy" talks about the happiest era of my life, which was the 1980's - a decade in which we lived in Wallaroy Road, located in the Sydney suburb of Woollahra. The word that comes to mind describing this body of work is abundance, reflecting life, love and laughter.
An English country-style residence tucked away from sight. Secluded, serene, peaceful and tranquil, sun drenched due to the French doors opening into the gardens, which reflected and contributed to the overall blissful ambience. The atmosphere was relaxed with the laughter of children being the order of the day, heightened by a constant stream of friends and family who came steadily during the course of the week for impromptu meals and a chat. All of these memories have inspired this latest collection.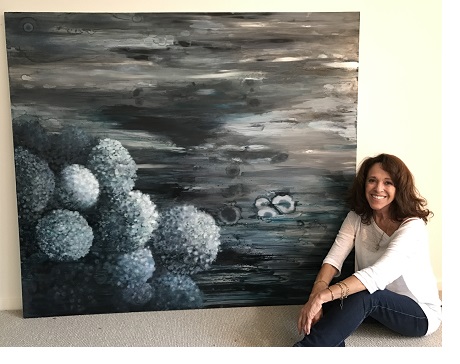 The perfumed garden was filled with giant jacarandas, wisterias, magnolias, jasmine and a profusion of gardenias. Beds of tulips and irises, daffodils and jonquils flowered annually and the giant peach tree that could be seen outside our bedroom window on the third floor that blossomed in Spring, where cockatoos landed for a peach breakfast in Summer, all used to make my heart sing.
Hydrangeas were chosen as dialogue for "Wallaroy" as they are reminiscent of my past. These blooms have laced their way throughout my life and are deeply embedded in the recesses of my mind, representative of safety, family and heritage.
Lavish lashings of paint denote the big word for this body work "abundance". The contemporary backgrounds reflect the now and future, with silver paint used throughout to denote deco style silver artefacts that graced some rooms, left to me by ancestors. Wallaroy, in some instances, also showcases my collection of French, English and contemporary blue and white china that was collected throughout this era. Interestingly, contemporary blue and white china is enjoying resurgence.
The Wallaroy days were halcyon, just loved those years and the life we had.
Wallaroy was my Camelot.
Jacqueline Tiepermann (2017)