Windows
The 'Windows' series are not about an individual, but a lifetime of past memories & present or future desires. Although the works are intricate, I'm actually offering a blank canvas due to each painting being almost devoid of colour. There are grey shadowed window panes in each of the works primarily to divide the opaque glass. This is deliberate to motivate one's imagination into creating what it sees through the window.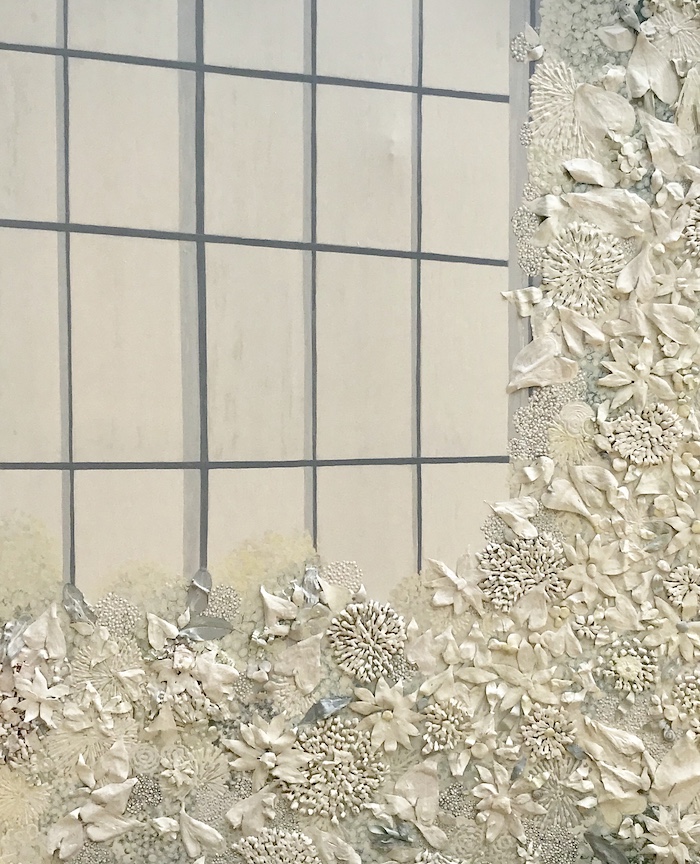 Window I - Oil on Belgium Linen - 165 x 145cm (2019)
'Windows' is certainly romantic, it is my desire that the reaction from a painting for a possessor changes constantly. Inviting depth of thought, always uplifting ones emotional state. Perhaps acknowledging the sweetest of loves, unpolluted memories in the recesses of their minds of times gone by, the present as well as desire for dreams come true. All being well, encouraging the imagination to dance, hence giving the work a tangible ever-changing vibrancy.
An array of sculptured flora, made entirely of oil paint & almost devoid of colour, surrounding each window is a constant throughout the series. Light coming into a room during the course of the day, or a light focussing on it at night, will assist the sculptural element of the vegetation in highlighting awareness of differing sections of the work, whilst consistently emanating an ethereal effect.
Jacqueline Tiepermann