Entrant for 2019 Moran Portrait Competition
Oil on Belgium Linen - 96.5 X 84cm - 2019
"History of Moi" is a snapshot of three score & eight.
Childhood life was idyllic, lived most of it with my Grandmother & Nanny as my parents were busy. I didn't mind in the slightest as I felt confident within the "compound", however far less secure in the outside world.
My portrait is in shades of pinks, as to a considerable degree, I view the world through rose coloured glasses. This has varied from pale pink to burgundy depending on what life has thrown at me. This mindset has kept me "glued".
Masses of long hair has always been a camouflage, it has given me a significant sense of security. It concealed & still conceals my trepidation of the world around me.
Throughout the '60's, living happily in Sydney, I wore frangipanes in my hair, it was my trademark. In my portrait the frangipani have been replaced by leaves that are turning autumnal, being my current stage in life. Although in saying that, whenever I see a frangipani it's automatically popped behind my ear!
A broken marriage in the '70's added to my self doubt until I met the love of my life.
Marriage, beautiful children, decades of bliss until the early 1990 when we had to move states. This brought my world tumbling down. It was shattering, a degree of security once again lost!
Rebuilding from scratch was traumatic to say the least. Thrown back into business was a blessing & thankfully I was able to paint sporadically through commissions.
Life moved on until my son became ill. It was a battle we faced for many years. Thank G-d he is a survivor who now has a loving family of his own!
There were our children's marriages, grandchildren & blessings from above. In truth the majority of my life has been & still is a blessing.
Four years ago I lost the love of my life. Fortunately I have been able to focus on my art since this tragic loss, it has been my saviour. I am impregnated with the nature of loss & the necessity of reinvention. By surviving, you gain the chance, like Tennyson's Ulysses, "to strive, to seek, to find & not to yield."
Hopefully all this pain & joy can be seen through the eye of my portrait as the eye is the window to ones soul.
The bright blue lip is Kandinsky inspired. He has always been one of my favourites. I want the blue lip to show heightened sensitivity & emotion through colour.
Surrounded by love & support, now have been given the opportunity to spend all my time painting. It feeds my soul. I am truly blessed.
"History Of Moi" is a 100% oil painting. I have produced it in 3D to portray the complexity of life. This style of application has taken years to perfect. It's only now that I have the confidence to exhibit it publicly.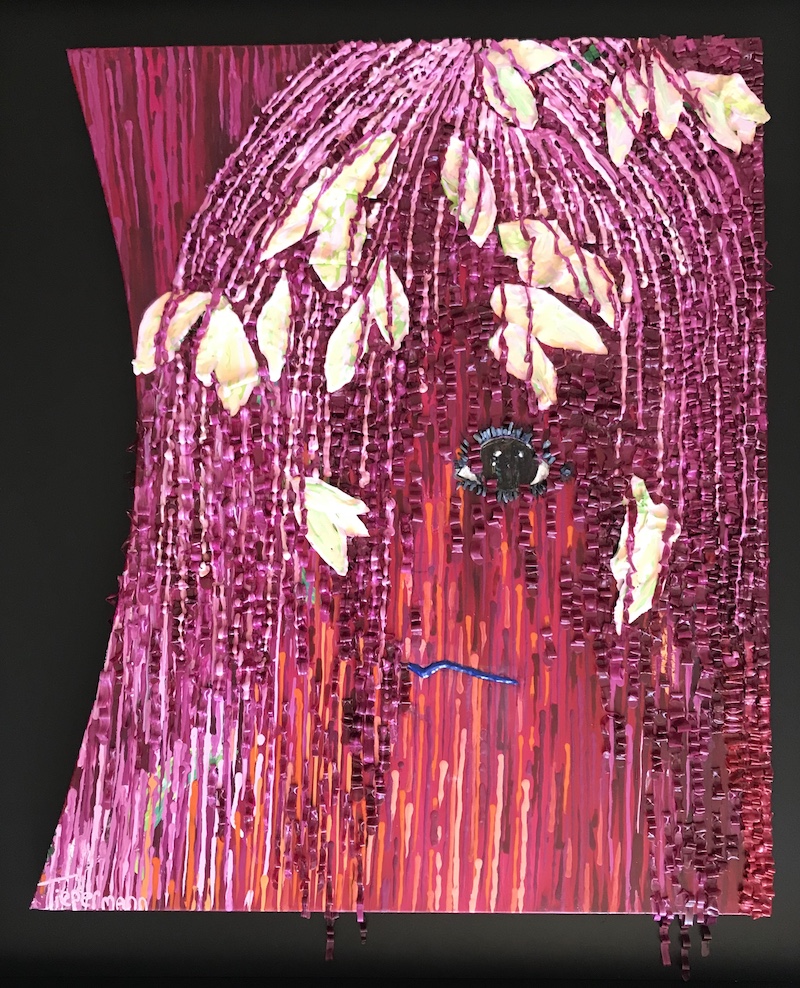 2019 Moran entry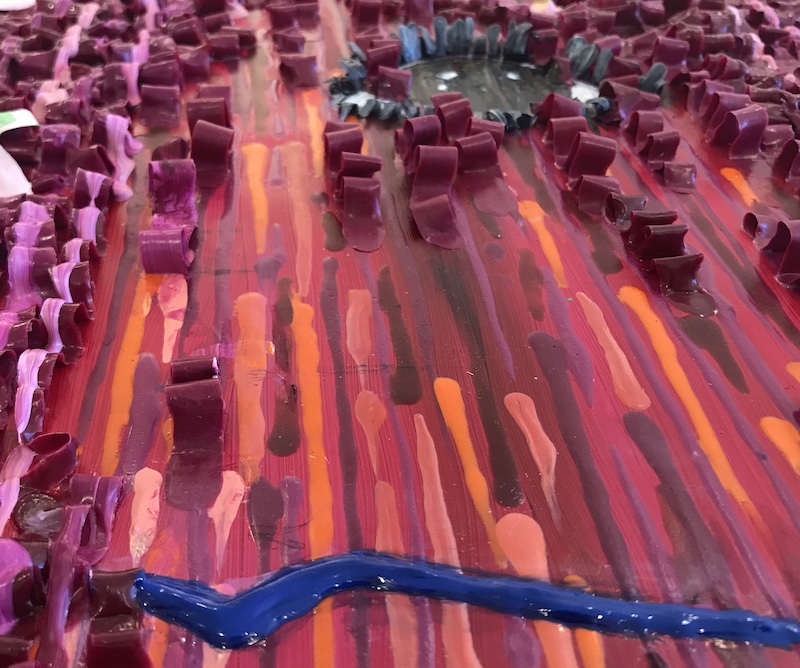 2019 Moran entry
Entrant for 2019 AGNSW Sulman Prize
Oil on Belgium Linen - 165 X 145cm - 2019
The first "Windows" painting was created for the "Reason Season Lifetime" body of work, were each painting is a person. However, upon completion, I realised 'Windows' was telling a completely different story. The 'Windows' series are not about an individual, but a lifetime of past memories & present or future desires.
Although the works are intricate, I'm actually offering a blank canvas due to each painting being almost devoid of colour. There are grey shadowed window panes in each of the works primarily to divide the opaque glass. This is deliberate to motivate one's imagination into creating what it sees through the window.
'Windows' is certainly romantic, it is my desire that the reaction from a painting for a possessor changes constantly. Inviting depth of thought, always uplifting ones emotional state. Perhaps acknowledging the sweetest of loves, unpolluted memories in the recesses of their minds of times gone by, the present as well as desire for dreams come true. All being well, encouraging the imagination to dance, hence giving the work a tangible ever-changing vibrancy.
An array of sculptured flora, made entirely of oil paint & almost devoid of colour, surrounding each window is a constant throughout the series. Light coming into a room during the course of the day, or a light focussing on it at night, will assist the sculptural element of the vegetation in highlighting awareness of differing sections of the work, whilst consistently emanating an ethereal effect.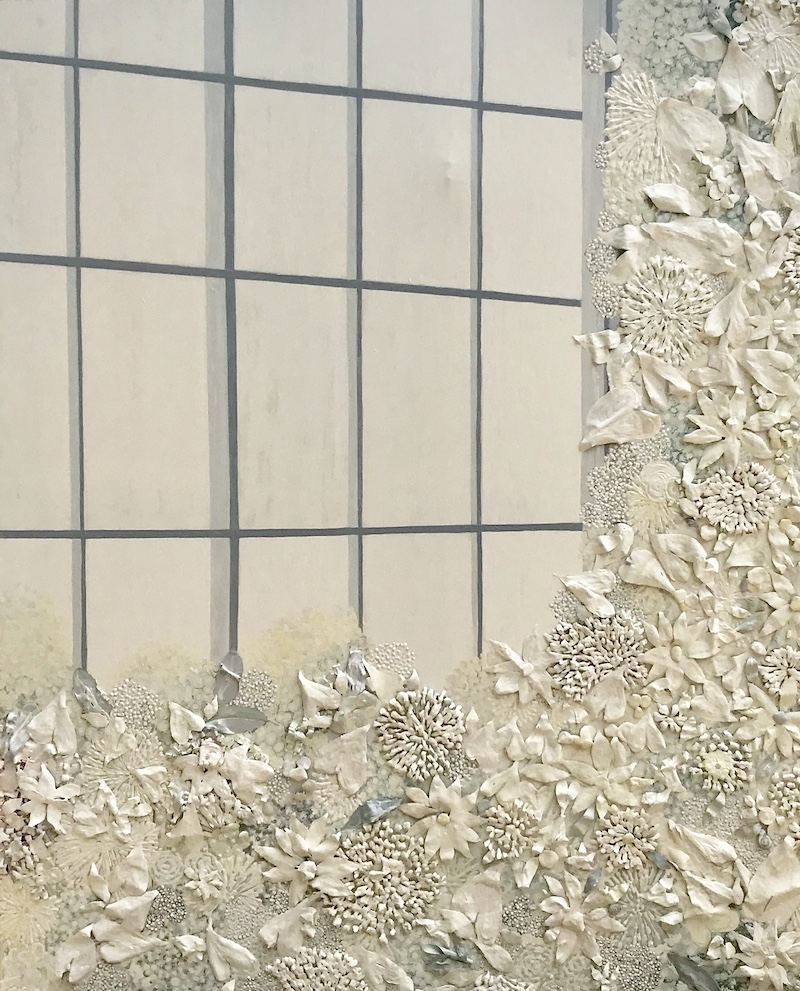 2019 Sulman entry
Jacqueline Tiepermann