Entrant to the 'Doug Moran National Portrait Prize'
Artist's statement by Jacqueline Tiepermann:
"Woman Behind Her Man" is a love story about my close friend Rhonda and her husband Harry Triguboff.

The painting is a representation of the deep bond of love and support that exists in most strong relationships.
Inspired by a moment I witnessed between the two on Christmas Day, where she placed her hands lovingly on his shoulders whilst he was seated. This small gesture spoke volumes, moving me to capture it on canvass.
The composition emphasizes the connectedness between the two figures, the love they share the tenderness and intimacy of the moment.
Fortuitously both Rhonda and Harry came to Melbourne for the Australian Open in January so could have a lengthy studio sitting.
The painting highlights the importance of the role of partners in society. Rhonda is the perfect embodiment of this theme, as she is a strong, loving and supportive woman who has played an important role in the life of her partner.
It was an honour to have been able to capture Rhonda in this way, and hope that this painting will resonate with others and remind them of the importance of their partners in life.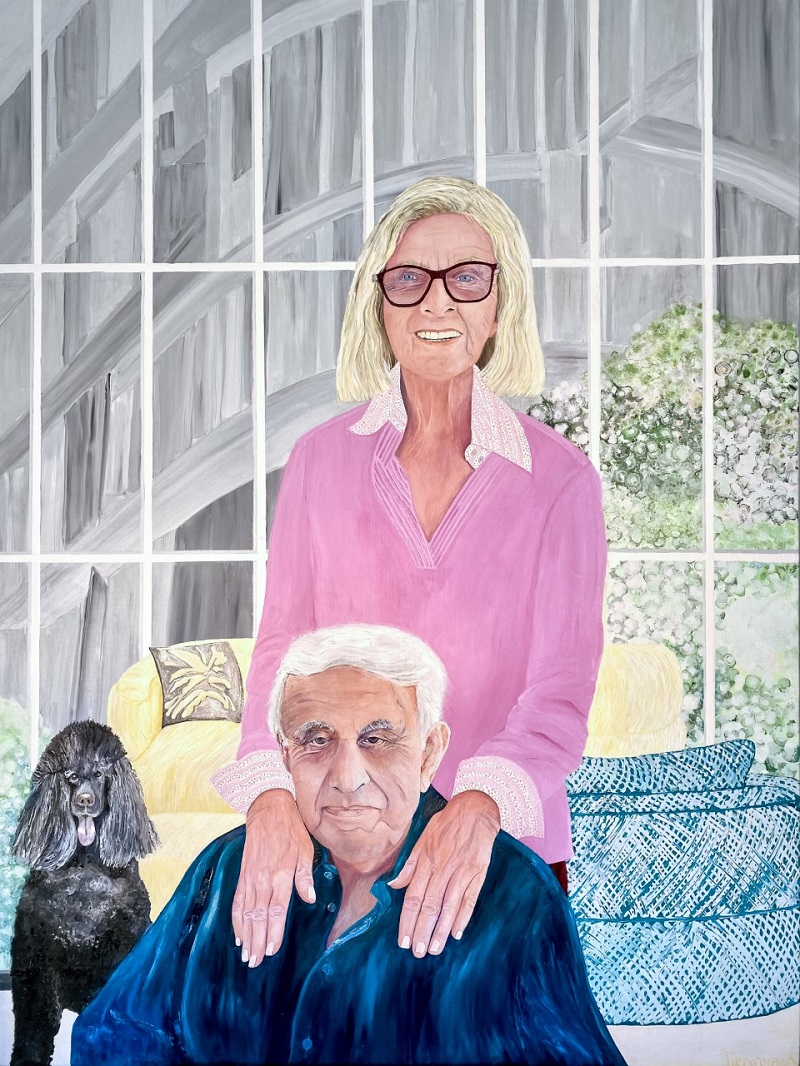 2023 Doug Moran' entry - 'Woman Behind Her Man' - Oil on Linen 140cm x 104cm
Entrant to the Wynne Prize - Art Gallery NSW
Artist's statement by Jacqueline Tiepermann:
Refuge Bay
Oil on Linen - 122 X 220cm
"Refuge Bay" is personal, a large painting, a lightbulb moment painted feverishly one Sunday.
It tells the story of family holiday memories on the Hawkesbury River. Whilst painting I was totally transported to those times, so many childhood anecdotes, I could actually hear my brothers & parents voices during the long hours hovering over the canvas. We always moored at this glorious bay with a natural waterfall, majestic rock formations and a cave behind that we played in and around. I remember only too well looking through my cabin's porthole at night, a mesmerising waterfall with a sound that lulled me to sleep. Painting with an open smile, whilst tears fell freely.
As I climbed into bed late that night, completely spent, there was a call to notify me that my father had passed away.
It is at times like that, I wonder, what subliminal messages are sent from the spirit world…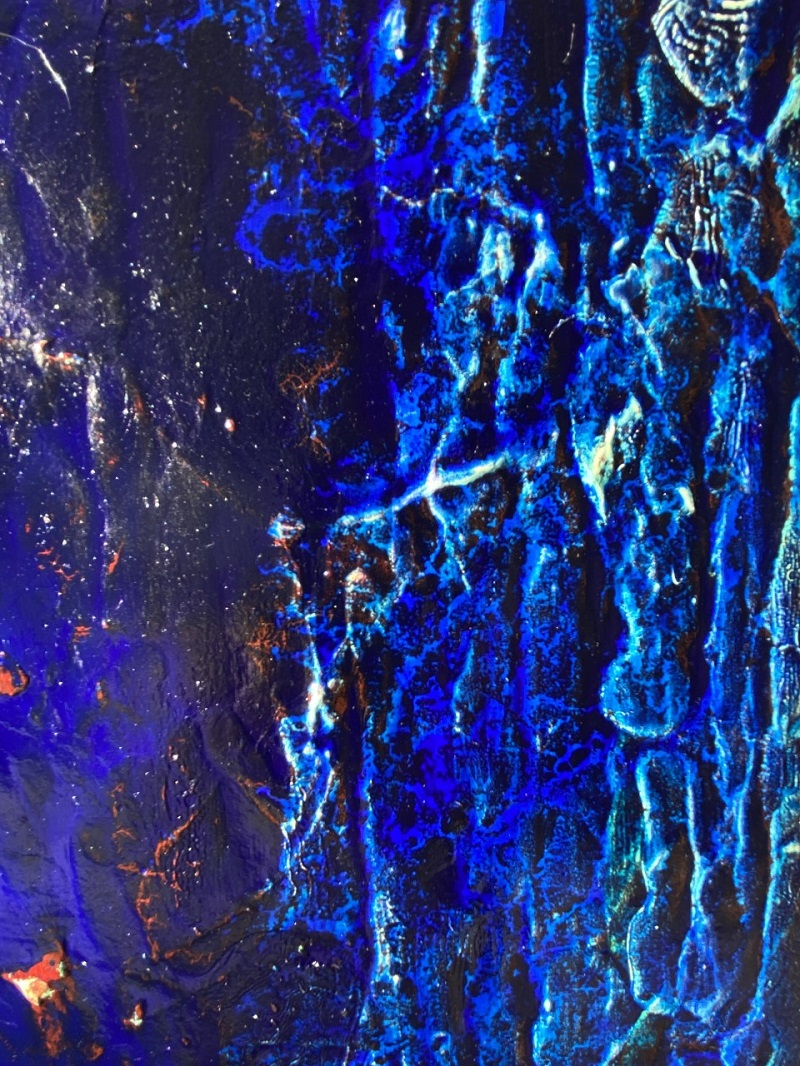 2023 Wynne Prize entry - 'Refuge Bay' - Oil on Linen 122cm x 220cm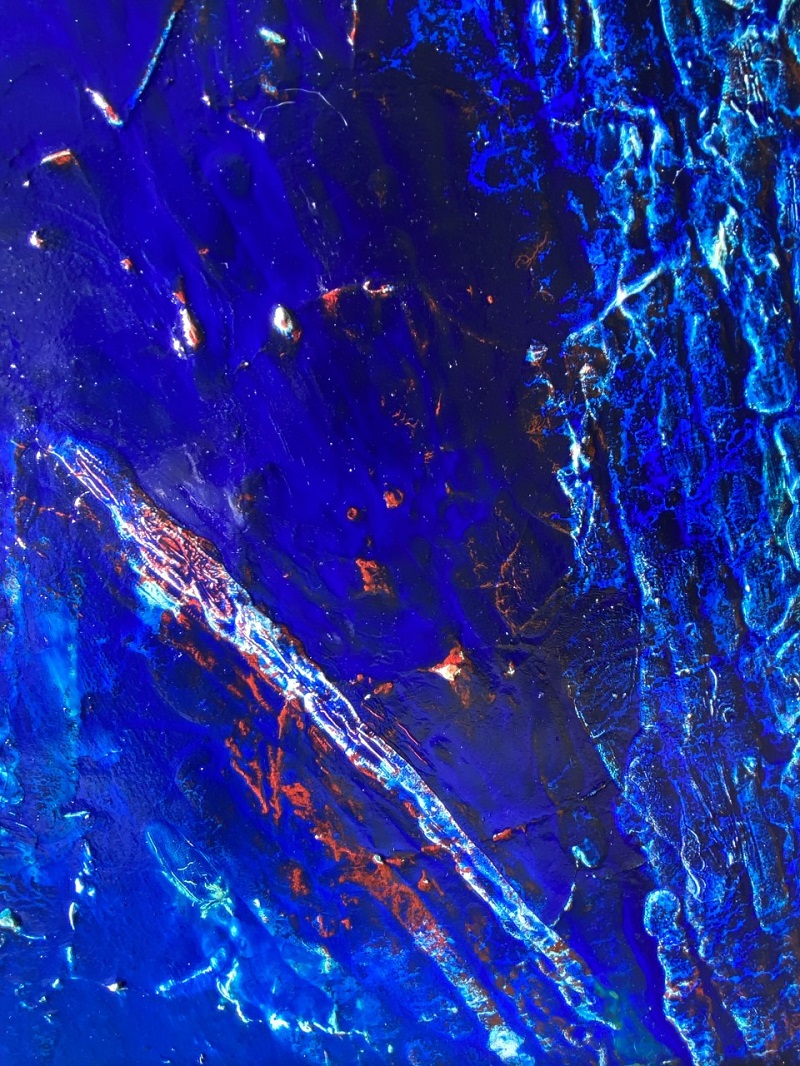 'Refuge Bay' - Section of painting
Jacqueline Tiepermann